Artist in Resident 5/5/22 – 5/14/22: Yunuen Rhi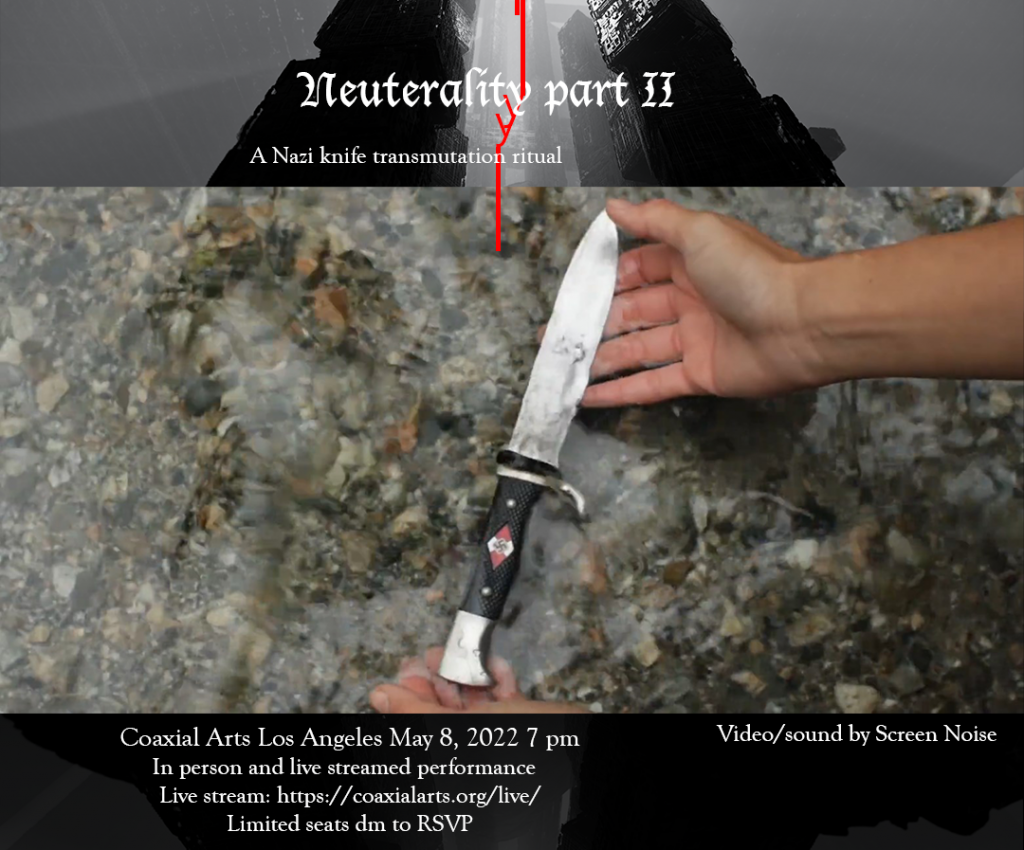 RSVP: https://withfriends.co/event/14304464/neuterality_ii_excising_the_eugenicist_mystique
Neuterality II: Excising the Eugenicist Mystique will be presented in-person with a limited capacity and live-streamed at: https://coaxialarts.org/live on May 8, 2022 at 7:00 pm.
Yunuen Rhi is a xicanx-korean non-binary wellness coach, martial and performance artist, applied anthropologist, and medicine person. We have cultivated ourselves in western, eastern and native medicine pathways to develop containers for consciousness. Our performance art often incorporates martial, ritual and psychomagic elements. Our performance intention leans on building radical and tender community bridges as an accountable social practice.
Yunuen Rhi's ongoing ritual performance, Neuter ality bonds the terms "neutral" and "neuter" in a ritual act that transmutes a WWII Nazi Knife: an emblem of racist patriarchal violence as an accepted social norm.
Neuterality I was held at the MAI in Montreal in 2019 for the Taking place series, where I first altered an original Hitler Youth Nazi knife passed down to me by my stepfather when I was ten. This was a WWII American war trophy his paratrooper uncle handed down to him. The ritual act inscribed the Sun's tongue in the Mexica Calendar on the blade with a dental drill once used at my Mother's Dental practice.
The performance rite will continue to transmute the neuteralized Nazi knife amidst the fascist uprise since the COVID-19 Pandemic. The procedure will excise the eugenic component of the knife as a fallen symbol of appropriation and un-accountability. This act denounces the rising acts of systematic racist hate, murder, rape incarceration and sterilization, of people of color by the USA today extended into foreign intervention sites and our private spheres. Video/Sound in collaboration with Screen Noise (Samson Balfour).
Sound Bodies Immersion Session
Taught by Yunuen Rhi in collaboration with Samson G. Balfour Smith (Screen Noise)
In-Person: Saturday, May 14th 5:30 PM
Sound bodies Immersion is a sound and visual walking meditation experiment based on the internal martial art practice of Baguazhang (Bagua). This session is my residency's community offering as it combines ancient and modern technologies. Participants will be taught alignment instructions, postures, and the Bagua walk to use in a binary star system choreography within the sound and visual immersion. Samson made the sound and visuals for this immersion using the Screen Noise instrument he designed. The concept is wrapped around the new graph sound instruments. The graph sound is the core sound and not just sound reactive visual of audio dynamics. The graphic shape controls and creates the sound, without being a slave to the audio motion of frequencies. This collaboration engagement stems from a previous Baguazhang and Screen Noise video performance for Mutek San Francisco in 2020.
Baguazhang (Bagua) is an internal martial art system that elevates human consciousness. It is a potent medicine for self-healing that is seeded in the teachings of Daoist/Buddhist monks and martial artists from China. The training for the weekend is focused on the self-healing and combat aspect of this human legacy. The practice helps you align your energy, relieve stress, distance and regulate the function of all your organs through proper Qi circulation in joints and fascia. It is being your best and own healer. The practice is not only a preventative health measure but also and primarily a life changing philosophy
Yunuen Rhi, founder of Isuini Martial Healing arts, is a wellness coach, performance artist, applied anthropologist, and medicine based in Los Angeles, California. Our roots are in Mexico, the United States, and Korea. We have cultivated Western, Eastern, and Native medicine pathways as a way to create containers for consciousness. Our work is social practice, and performance is used as a way to create bridges between performance and community.
Samson G Balfour Smith (French-British nationality, born in Nice based in Paris) combines musical education with experimental forms of design, coding, and electronic sound. In 2011 Samson G Balfour Smith started to create the screen noise instrument – a direct connection between graphics and sound down to the core of magnetic forces of the living flow of protons and electrons. The graphic is the core sound and not just a sound reactive visual of audio dynamics. The graphic shape controls and creates the sound, without being a slave to the audio motion of frequencies. Samsons' work has been performed at Nice Opera, IALS Roma, Saint fiacre Paris, Wonderlust Paris, and Mutek festival in San Francisco to mention a few. He has been signed with Bpitchcontrol records / Berlin.
Coaxial's Artist in Residency program is supported by Wilhelm Family Foundation https://wilhelmfamilyfoundation.org & Pasadena Arts Alliance https://pasadenaartalliance.org