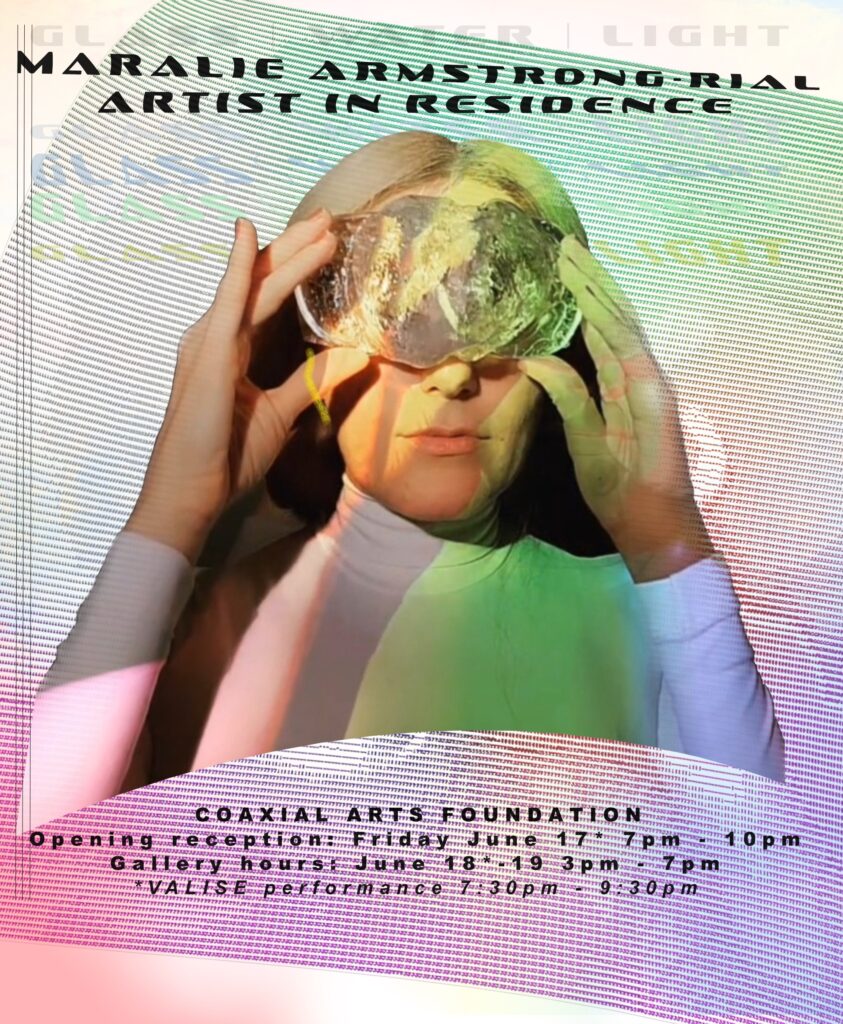 JUNE 12th – 20th, 2022 Artist in Residence
Maralie Armstrong-Rial presents: Glass, Water, Light
Opening reception: Friday June 17th 7pm – 10pm
Gallery hours: Saturday June 18th 3pm – 7pm
*Performance 7:30pm – 9:30pm
The sculptures and unrefined lenses in this exhibition manipulate and refract light cast from candle and video projection. Their transparency illuminates distortion. With this work I consider the material history of glass as oracle in telecommunications, astronomy, and occult.
Glass moulded from the hallow of a tree trunk and fashioned into "head-mounted displays" is meant for immersion into the ancient virtual realities of light and shadow. These virtual reality head-mounted displays are liberated from predatory market and software. There are also (discarded) sea glass artifacts I found washed upon the shores of Babylon, NY, and scrying vessels cast at the Studio of Corning Museum of Glass.
This material lineage is supplemented through hydrophone recordings of the ancient Susquehanna River to the industrious East River and to the luminous edge of the Atlantic Ocean. These interconnected histories of glass industry and spiritualism are kept abstracted and liquescent. My hope is that we are reminded of a single material used in our networked lives and meditate upon the resources such a life demands. How much silica, sand, and water do we carry in our pockets on a given day?
The recordings will be composed live in a sound performance on opening night and following Saturday. During this residency, I will visit and record nearby bodies of water to expand this ongoing audio mapping project.
BIO
Maralie Armstrong-Rial is a Brooklyn based interdisciplinary artist, vocalist, producer, and educator whose work finds heritage in a genealogy of spiritual and sensual expression via technology. A reaching for the unseen or celestial otherness is evoked. Her work as VALISE focuses primarily on movement, video synthesis, refractions of the self, digital technology, and Deep Listening. Meditations on the Eternal and the temporal form her/their living pattern of dance. Maralie also performs collaboratively as Humanbeast with artist and spouse Eli V Manuscript. Humanbeast has moved through various forms of durational performance art, installation, noise and pop music genres since 2007 (though the two have collaborated since 1997). Their recordings have been published by Load Records and Gross Domestic Product.
Armstrong-Rial currently works as adjunct assistant professor in the Department of Modern Culture and Media at Brown University.
Coaxial's artist in residency program is supported by Los Angeles Department of Cultural Affairs and the National Endowment for the Arts.