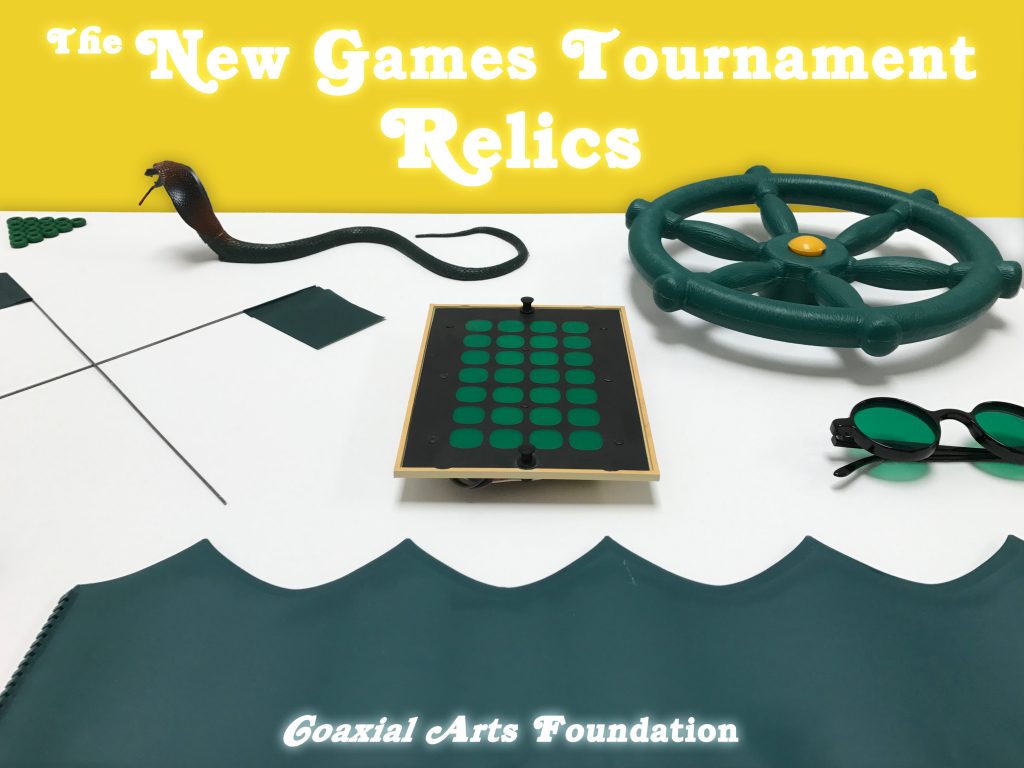 The New Games Tournament points to an unknown subculture full of pomp and circumstance. Its members gain prestige via an implied athletic or theatrical performance. In reality, the narrative details reside only in the observer's individual interpretation of the installation.
The rules of the games themselves are unknown, and only evoked via ambiguous objects and imagery (including the equipment needed to play, and the trophies designating success or failure); yet the world of the tournament slowly expands with hints at characters and storylines made possible by their intersection with these artifacts.
This exhibition condenses the essence of The New Games Tournament onto white canvases, placing various items (hardware, suburban home and garden fixtures, game pieces, sports equipment) onto tableaus that form an ephemeral collection of notable "relics" from the fictional sport.
Jon Clark (b. 1982, Lafayette, LA) is a multimedia artist and filmmaker known for creating worlds and fake subcultures. His work most commonly employs the mediums of installation, assemblage, collage, and video. His narrative work strongly values objects over characters and story.
Notable pieces include Spectrum Hunter (Film, 2012) which follows an uncanny cult as they engage in bizarre rituals and supernatural conflicts, The Night School Collection of Haunted Media (Installation, 2013) which is a set of VHS tapes, DVDs, Laserdiscs, and Trading Cards that explores how we manipulate imagery to represent content, and (most recently) The New Games Tournament (2015-present).
Jon has earned a living in the film industry since 2006 and has been fortunate to work for Troma Entertainment and The Tim and Eric Awesome Show. He is currently the Animation Studio Manager at Exceptional Minds (A Visual Effects/Animation School and Studio for Young Adults on the Autism Spectrum). Jon lives and works in Los Angeles.
Opening Reception: Friday, July 7 at 8 PM – 11 PM
Facebook RSVP: https://www.facebook.com/events/1591178677561314/
Location: Coaxial Arts Foundation 1815 S Main St. Los Angeles, CA 90015