Over 30 visual arts organizations in LA develop new model of mutual support and raise $2.6 M.
Coaxial Arts Foundation: Coaxial Arts Foundation is pleased to share the news that we are a member organization of the Los Angeles Visuals Arts Coalition (LAVA). LAVA is a coalition of over 30 small to medium-sized contemporary visual arts organizations that have come together in a scalable, sustainable model to collectively fundraise, share, and amplify financial resources and infrastructure. Today we are announcing the resulting success of three years of collaborative work.
For more information, please contact Emma Jacobson-Sive (emma@ejs-media.com) or visit lavacoalition.art
Coaxial Arts Book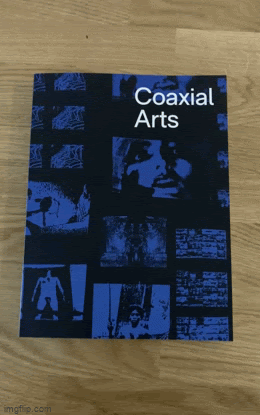 A full color book documenting over six years of Coaxial residencies, events, and programs since its beginning in March 2015.
Book measures 7.5" x 10" with 176 pages.
Design by Sean Deyoe with forward by William Hutson and introduction by Director & Founder Eva Aguila. Special thanks to Marlo De Lara and Natalie Robehmed for helping with proofreading.
The book along with T-shirts, pins, and masks are all avaliable for order in the Coaxial online store: