Mid-January 2023 @ Coaxial
(pictured: April Joy Gerloff performing at our annual fundraiser last month.
Performing at Coaxial as Dark Pulse, Friday, 1/27)
We had a lively weekend at the space with excellent shows on both Friday and Saturday. Thanks for braving the rain and coming out!
There's some great events coming up to round out the month, including our monthly Max Meetup tonight. We'll be taking this weekend off to recoup our energy and then hitting things hard next week with some killer shows Friday and Saturday respectively.
Read more about everything coming up below and don't forget to RSVP so we know to expect you.
Catch ya soon!
— Coaxial —
Max Meetup: Community Show + Tell
Wednesday, January 18th | 7pm | FREE (please RSVP)
Mask wearing is highly recommended indoors. N/95, KN/95, surgical masks suggested and provided.
This is a monthly series of community events for those interested in making music and art using using Max by Cycling '74. This event is free and welcomes people of all skill levels, experiences, races, genders, sexual orientations, and nationalities.
This month's theme is a community show and tell in a "science fair" format. We'll be setting up tables in a semi-circle at Coaxial and welcoming all community members to share their patches!
Anybody is welcome to attend and share work, regardless of their background or experience level with Max. If you'd like to share, please review the prompt and guidelines. Please also let us know you're planning to share by sending an email to maxmsp.la@gmail.com. This isn't required but helps us make sure there's enough space for everybody.
And, as always, if you plan to attend this event, please RSVP.
Thanks to Cycling '74 and Coaxial Arts Foundation for supporting the Los Angeles Max Meetups.
Dean Spunt / Dark Pulse
Chad Leaf / Ian MacPhee
Friday, January 27th | 8pm | $10
Mask wearing is highly recommended indoors. N/95, KN/95, surgical masks suggested and provided.
Cudighi Records Presents:
Yann Novak | Paradot | AxOxH | Pablo Perez
Saturday, 1/28 | Doors: 8pm, Music: 9pm | $10
Mask wearing is highly recommended indoors. N/95, KN/95, surgical masks suggested and provided.
Cudighi Records presents...
Yann Novak is an interdisciplinary artist and composer based in Los Angeles. His work is guided by his unique perspective as a queer autodidact. Informed by his partial color blindness and dyslexia, Novak uses sound and light to explore how these intangible materials can act as catalysts to focus our awareness on our own direct experience.
Since aligning in 2017, Emilía Turner and Jodoli have constructed a distinctively genre-bending agrimation of electronic experimentation, an audio-visual avenue that brings to mind 80's post-industrial innovators Severed Heads, the revolutionary Warp/Rephlex landscapes of the 90's, and the DIY glitch obsessions of Black Dice and Pan Sonic. Their self-described "maximalist" reconfiguration of found sounds, samples, and other electronic detritus yields a richly enveloping and surreal sound that they relate in more practical terms as a "cross-section of techno, noise, ambient, and pop."
AxO is a collaboration between Jesse Perlstein & Daniel Sparks, finding the space between ambient experimentation and dark industrial techno.
Pablo Perez has been a prolific presence in the Los Angeles experimental underground, having performed numerous times at local arts organization Coaxial, The Getty Museum, Sound Pedro, Handbag Noise Festival, Late Breakfast, Triptronics events at Echo Park's Little Joy, Noise Engineering Noise Blast, and more.
Coaxial Arts Book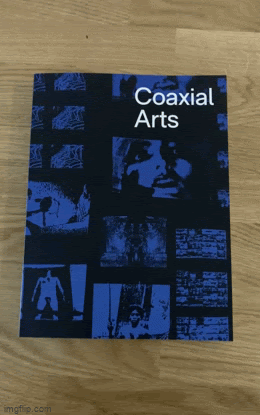 A full color book documenting over six years of Coaxial residencies, events, and programs since its beginning in March 2015.
Book measures 7.5" x 10" with 176 pages.
Design by Sean Deyoe with forward by William Hutson and introduction by Director & Founder Eva Aguila. Special thanks to Marlo De Lara and Natalie Robehmed for helping with proofreading.
The book along with T-shirts, pins, and masks are all avaliable for order in the Coaxial online store: