COAXIAL MEDIA ARTS FESTIVAL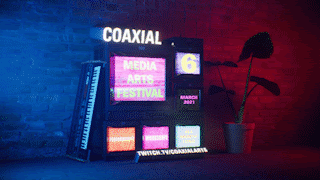 COAXIAL

 MEDIA ARTS FESTIVAL
MARCH 2021
ALL MONTH LONG
It's our 6th anniversary and we are celebrating it with a full month of programming all through March! We received $15,000 from the National Endowment for the Arts to produce a media arts festival and book. We will have performances, artist lectures, drive-in screenings, and a book release covering every residency at Coaxial. Scheduled activities include:
3D gallery curated by Casey Kauffmann (opens March 1st)
Book launch and Drive-in screening by past artist residency recipients in the 

Coaxial

 parking lot the evening of March 27
Window Installation by Jonnie Prey and Shannon Kennedy
Livestreams every Thursday through Sunday which include artist lectures, performances, workshops, and drives-in screenings

Curators include Grave Realms, Island of Misfit Toys, Cathode Cinema, Fem Synth Lab, Not Evil, Black Lodge, and Vidicon
Artist lectures by Alex Pelly (3/4) and Omolara Abode (3/25)
Workshops every Sunday in March Including Field recording with Maral Mahmoudi 3/7. Circuits by Eli Pechman from Mystics Circuits 3/28
Performance art piece by Lev Abramov 3/10
Cabaret performance by Carmina Escobar 3/13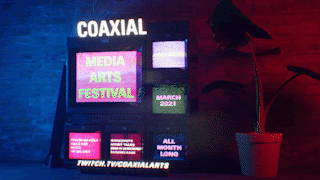 AFK – 3D GALLERY GROUP SHOW IS NOW OPEN!
AFK – 3D Gallery Group Show curated by Casey Kauffmann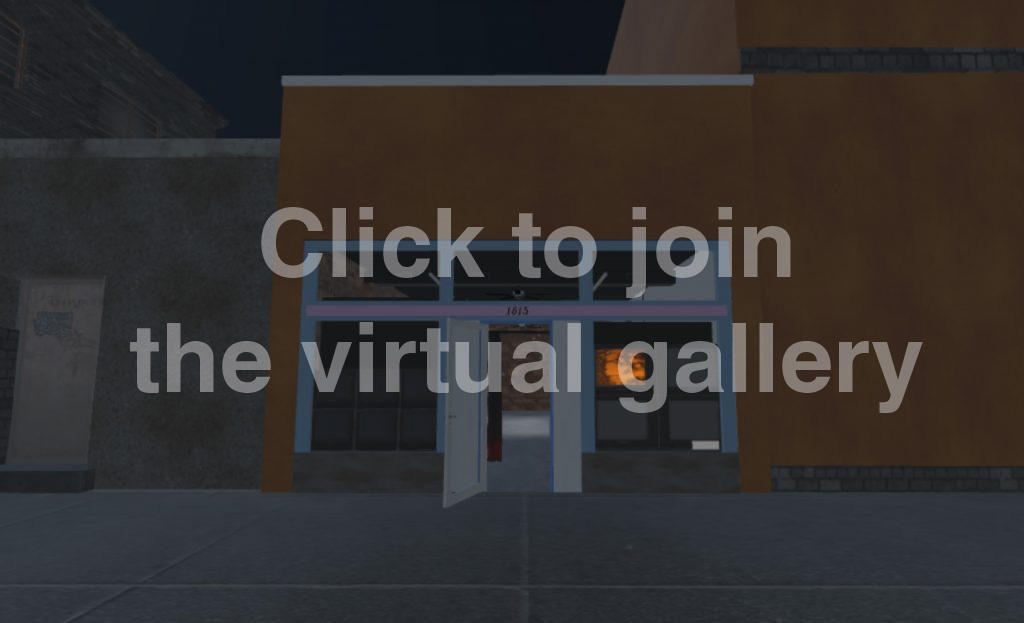 Guests can access the gallery from this webpage on any modern browser, mobile device, or VR headset.
Use your mouse and W key to move forward, A & D to move side to side and S to move backwards.
Upon joining please pick an avatar outside the gallery by clicking on "Use Avatar"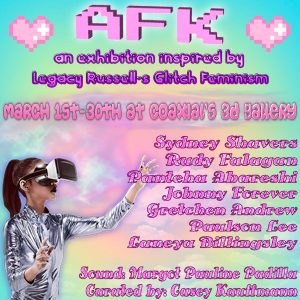 AFK 3D Gallery group show curated by Casey Kauffmann
Opening March 1st 7pm
https://coaxialarts.org/3dgallery
Johnny Forever Nawracaj
Gretchen Andrew
Rudy Falagan
Margot Padilla
Panteha Abareshi
Sydney Shavers
Paulson Lee
Special thanks to Ben Vance of FLOAT LAND for implementation and Taylor Shechet for 3D spatial design.

News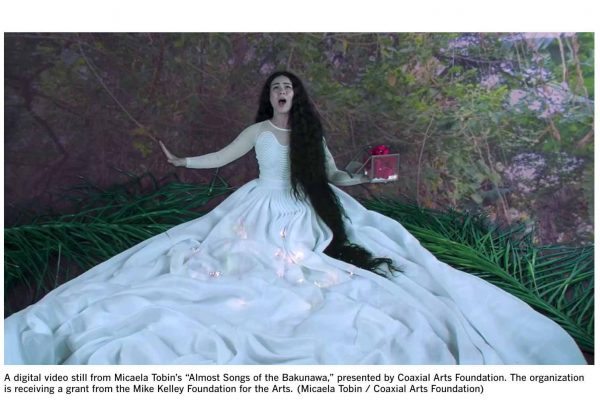 Coaxial Arts Foundation is excited to announce that we have received a generous grant from Mike Kelley Foundation for the Arts to support Coaxial through the worst of the COVID-19 pandemic. Director Eva Aguila was interviewed by the LA Times on receiving this