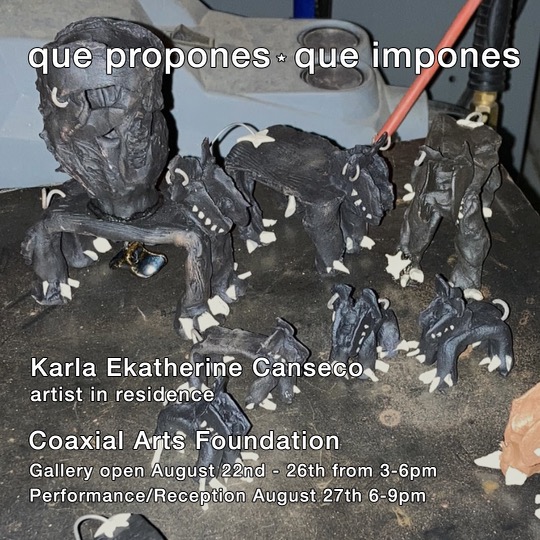 Los Angeles, CA – Coaxial Arts Foundation is thrilled to have Karla Ekatherine Canseco as our August 2022, Artist in Residence.
In residency Karla Ekatherine Canseco will work with received words, interrupting songs, and all forms of impressions as she explores a collaboration with an old friend who is always becoming, eroded, excavated: la tierra, el barro. This clay will be found, though never lost, and quenched. Together we move, stain, and hold our selves. Our many parts. We dance for one another.
Gallery Open Hours: Monday through Friday August 22-26 | 3pm-6pm with open hearts, loud mouths, and dirty hands; one can join, watch, give Karla a hand or hug.
Performance & Reception: Saturday, August 27 | 6pm-9pm
Mask wearing is highly recommended indoors. N/95, KN/95, Surgical Masks are suggested and provided.
RSVP: https://withfriends.co/event/14750461/que_propones_que_impones
Karla Ekatherine Canseco (b. 1995, San Fernando Valley, California) is an interdisciplinary artist based in Los Angeles. Her practice explores the nuances of identity through different mediums, particularly clay and performance. Karla is interested in the potential that exists within factures that is often overlooked. She interrogates different aspects of acquired Body Knowledge; where the inheritance of epigenetics has become an access point to investigate the manipulation of a bodily container leaving behind its imprint. In making, she leaves impressions of her subjective history, but at the same time layers her work with speculation, lustrous becoming and the poetics that materialize into form. Here, within the landscape of clay, touch becomes an extension that grasps and holds her family's ongoing systemic history. In this way, Karla's work brings together; a beat, mixed, and magical body that collapses and subsumes conceptions of time and holds stories in the same manner clay transcribes through composition and impression.
This residency is supported by the National Endowment for the Arts and the Department of Cultural Affairs, Los Angeles.