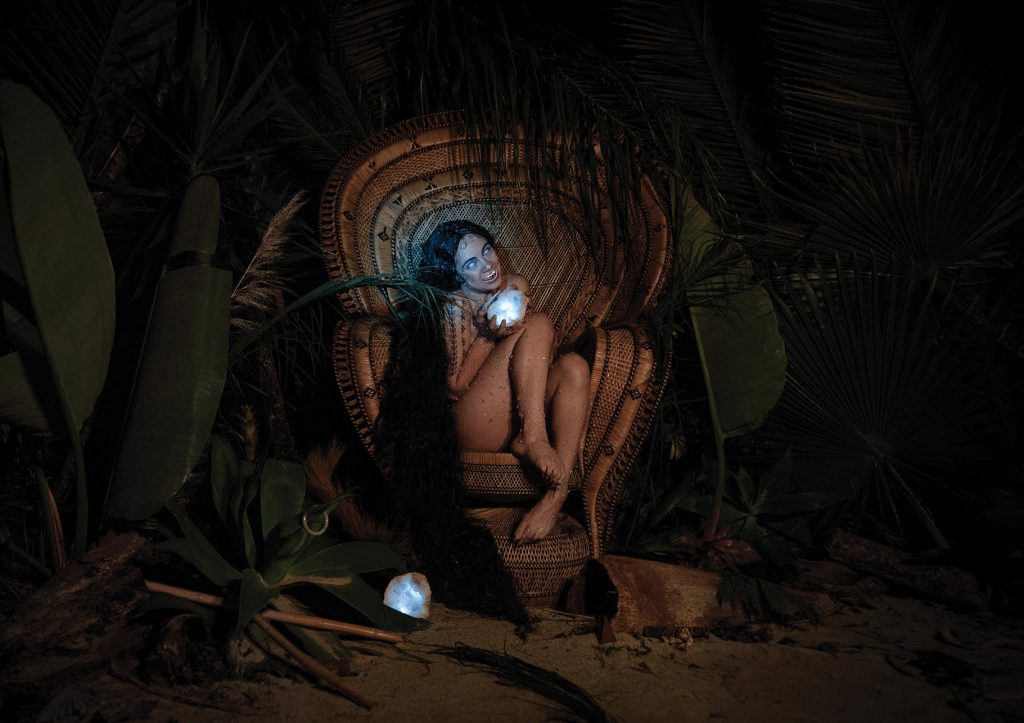 Photo by Katie Stenberg 
"Almost Songs of the Bakunawa"
Sonic rituals for decolonizing the ancestral voice.
Presented by artist in residence, Micaela Tobin (White Boy Scream).
Livestreaming on: https://www.twitch.tv/coaxialarts
Wednesday May 27th at 8pm PST: "Latík: Songs for my Grandmother"
Thursday May 28th at 8pm PST: "Saraw: Songs for Apolaki"
Friday May 29th at 8pm PST: "BAKUNAWA"
Experimental opera singer and sound Artist Micaela Tobin (White Boy Scream) will activate Coaxial Arts Foundation May 24th-29th with a series of ritual performances summoning the Bakunawa—a mythological moon-eating-serpent of pre-colonial Philippines.
Micaela Tobin is a soprano, sound artist, and teacher based in Los Angeles, CA who specializes in experimental voice and contemporary opera, composing under the moniker "White Boy Scream." On her latest album, 'BAKUNAWA', (out on Deathbomb Arc on 6/5/2020), she dissects her voice through the use of electronics as a means of exploring identity and ancestral trauma. "BAKUNAWA" is an homage to the pre-colonial mythology of her motherland, the Philippines. Part sonic ritual, part diasporic storytelling.
Micaela's last full length release, "Remains" (Crystalline Morphologies) was listed as one of the top 10 Noise/Industrial Albums of 2018 by The Wire Magazine. The premiere of her own original opera, entitled "Unseal Unseam," received 5 stars at the world's largest art festival, the Edinburgh Festival Fringe, in summer 2016; the work was described as "hypnotic" and "paralyzingly beautiful," by New Classic LA after its U.S. debut in October 2017.
Tobin has performed extensively throughout the western United States, most notably as a guest with hip-hop experimentalists clipping. during their 2017 tour in support of The Flaming Lips. Tobin recently performed a principal role in the critically acclaimed experimental opera, Sweet Land (comp. Raven Chacon & Du Yun), which made it's U.S. premiere in March 2020. Tobin is currently on Faculty as a Voice Instructor at the California Institute for the Arts.