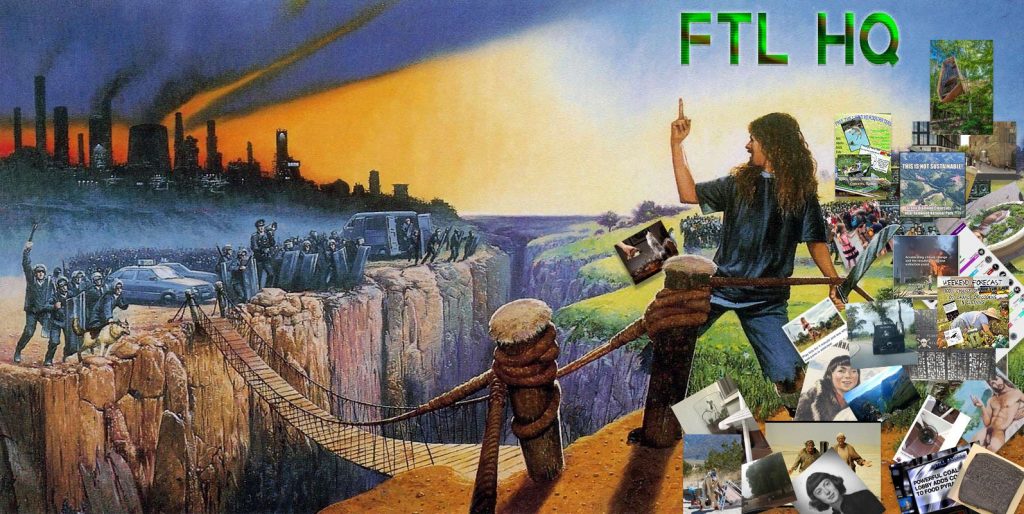 As human species continue to plow full steam ahead into the Anthropocene Era, Coaxial Arts Foundation is pleased to announce Free The Land Headquarters (FTLHQ) as the next Artist in Residence. For the duration of their residency, this international collective of artists will transform Coaxial Arts into " FTLHQ", the affiliation's defacto headquarters for the month. This will be our the last Artist in Residence of the year.
"We really need a head quarters u guys. An HQ for us to free land from. A base of land freeing operations. Are you alienated in this fucked up anti ecological corporatist dystopia? Like, do you get a feeling of some type of way and don't know if it is the feeling of you wanting like to plant vegetables to sustain yourself away from all the bullshit and the haters or if it might be the feeling of wanting to fuck a tree or like the feeling of something else but a strong one that it is, just, you can tell, is coming up through the earth, across the ethers and into your loins? Like the urge to just free the living shit out of all the gd land? i know it is a yes. And you are not alone. So get ready to get down. Get ready to be the living embodiment of your cyber analog from our meta HQ, our IRL HQ, coaxial. Where it is all about planting that flag. Even tho the flag is a tree. Even though the tree is a cell phone tower. " -(FTLHQ)
Free The Land (FTLHQ) is an evolving collaborative project initiated in 2013 by Jesse Sanes. A media diary of environmental impressions natural and domestic, it has manifested in print, collage work, soundmap contributions, guerrilla internet performance, live electronics, sculpture and immersive audio and visual installation. In equal measures exploratory and earnest, FTL pulls field recordings, found material, and digital media into a compost of synthesis and free manipulation.
Since the performance celebrating the 2016 release of '"Bedside Ecology" – a multimedia USB drive on Brendan Fowler's 'nontraditional' label, Free The Land has frequently convened for live and durational audio work as a collaborative trio with Sanes, Frederikke Hoffmeier and Nial Morgan. In the fall of 2018, Kali Malone, Aaron Miller Rehm and Henrik Söderström joined the troupe at Tropiska Föreningen in Stockholm for "Water Is," the second in a trilogy of sculpture and video exhibitions interpreting Anthropocenic water use. In May, Free The Land expanded its roster further for "C҉U҉L҉T҉I҉V҉A҉T҉E҉," in collaboration with Ross Caliendo and Cooper Larsen at Insect Gallery. The opening served as a membership drive for the North East Local of the Los Angeles Tenants Union and has been the largest recruitment of new members for the Local this year.
This residency program is supported by grants by The Department of Cultural Affairs City of Los Angeles and Los Angeles County Arts Commission