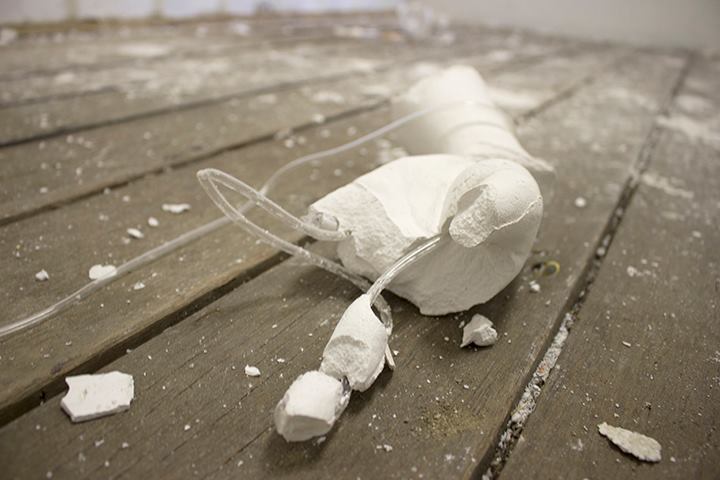 Rain is interested in the exploration of identity as it relates to gender and the body, and the navigation of the identity as it changes and evolves as a result of illness and disease. The destructive, contemplative, and repetitive processes used to make her work examine struggles between death and preservation as well as acceptance and control, in an effort to establish a sense of permanence in a decaying body. Illness comprises much of life. Rain's practice embraces and celebrates the seemingly futile pursuit of the preservation of life and the fragility of the body.
Raptures and Confessions will explore transition, self-haunting, and death autonomy within the context of living with invisible, chronic illness. This residency will provide a brief glimpse into existence as a partially dead, half-dissociated entity. Raptures and Confessions will feature new and recent paintings, sculpture, photographs, video and performance. There will be a Burial Ritual: I Hope That You Can Live with My Ghost, which will be live-streamed at very inconvenient time on Monday, December 10, 2018. Welcome to the life of a chronically ill person. There will be a Ghost Dance, taking place at the reception on Saturday, December 15, 2018 featuring Theresa Knopf and Dannica Donnell. This Ghost Dance is both a ritual and a public confession.
Rain Lucien Matheke is an interdisciplinary artist living and working in Los Angeles with her cats. Rain is a trans woman living with a rare primary immune deficiency disease. She received both her Bachelor's Degree and Master's Degree in Visual Art from California State University, Northridge. Rain has had several solo exhibitions in the Greater Los Angeles area, and has exhibited in group shows and performed throughout California, as well as in Nebraska and New York. Rain is also the woman behind endometrium cuntplow and disappearing.
www.iamjustaghost.com
www.patreon.com/rainlucienmatheke
Event Schedule:
Monday, December 10, 2018, TBA
Burial Ritual: I Hope That You Can Live With My Ghost
Live Streamed Performance
Saturday, December 15, 2018, 6:00 – 9:00pm
Opening Reception
Ghost Dance (One Time Only Performance)
Friday, January 4, 2019, 7:00 – 11:00pm
Closing Reception
With Live Performances by by Endometrium Cuntplow, Vulgar Display of Affection, and Loopgoat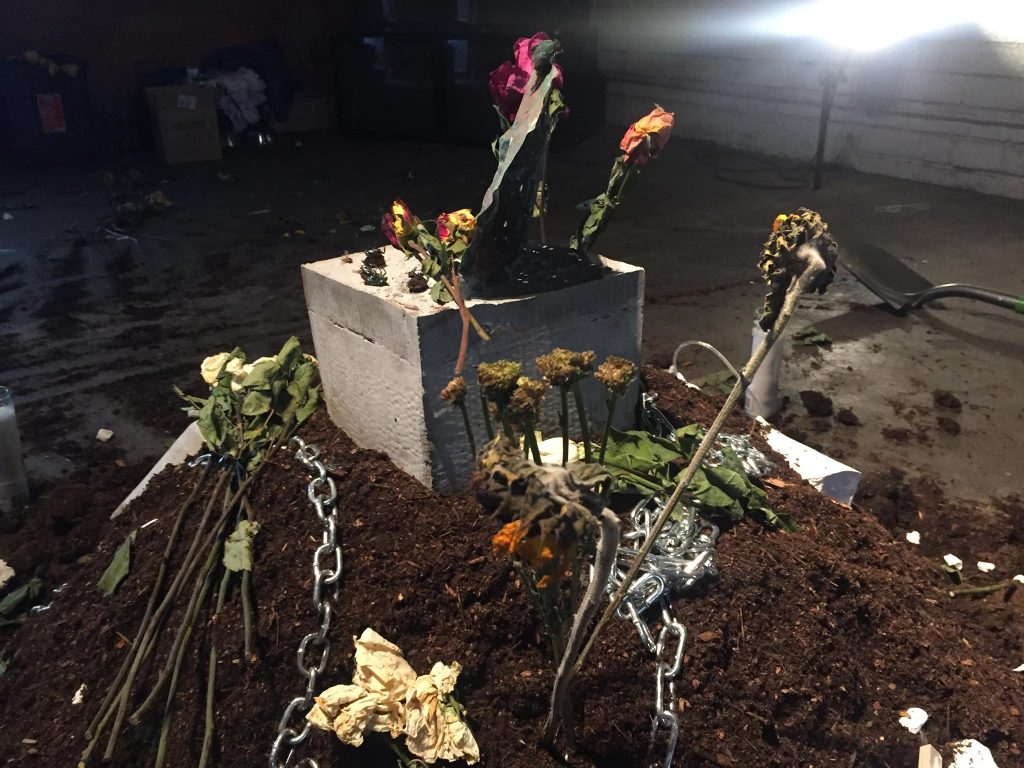 This residency is funded by the Los Angeles Department of Cultural Affairs (DCA) and Los Angeles County Arts Commission