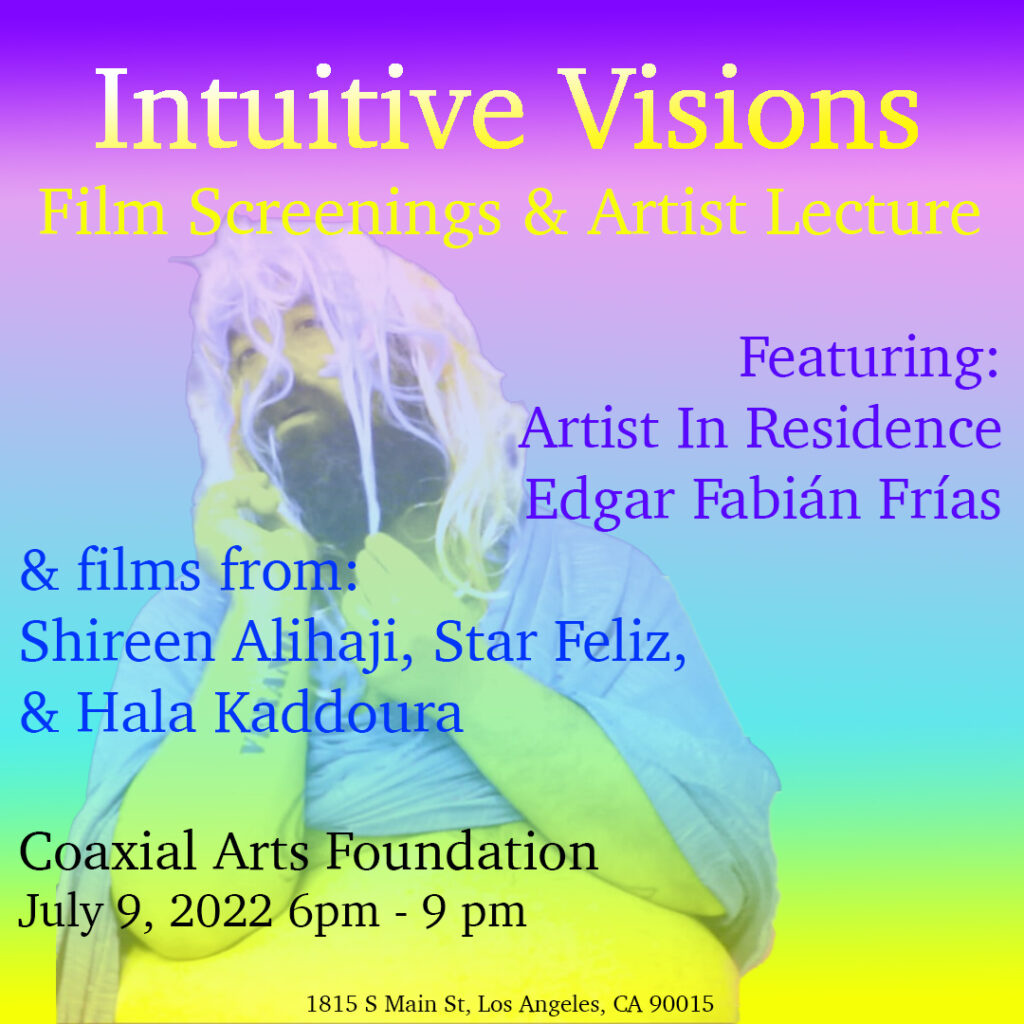 Edgar Fabián Frías works in installation, photography, video art, sound, sculpture, printed textiles, GIFs, performance, social practice, and community organizing, among other forms. Frías is Wixárika and their family is from Mexico, though they have lived in the United States for most of their life. Their art addresses historical legacies and acts of resistance, resiliency, and radical imagination within the context of Indigenous Futurism, spirituality, play, pedagogy, animism, and queer aesthetics. Weaving together the traditional and ancestral with the contemporaneous and emergent.
Born in East Los Angeles in 1983, Frías received dual BA degrees in Psychology and Studio Art from the UC, Riverside. In 2013, they received an MA in Clinical Mental Health Counseling at Portland State University in Portland, Oregon, with an emphasis on Interpersonal Neurobiology and Somatic Psychotherapy. Frías received their MFA in Art Practice from UC Berkeley in 2022.
Their work has been exhibited internationally, including the Vincent Price Art Museum, Institute of Contemporary Art San Francisco, BAMPFA, Oregon Contemporary, MOCA Jacksonville, Performance is Alive, Project Space Festival Juárez, and ArtBo, among others.
Join us for Intuitive Visions, a night of short films organized by Edgar Fabián Frías. Frías will share about their artistic practice and their work during their time at Coaxial. They invite Los Angeles based artist: Shireen Alihaji, Star Feliz & Hala Kaddoura to discuss their work and speak about trust, intuition, magic, and more!
Intuitive Visions
Saturday, July 9th
Curated Screening 6pm | Artists Talk 7 pm | Reception 8 pm
Mask wearing is highly recommended indoors. N/95, KN/95, Surgical Masks preferred.
RSVP: https://withfriends.co/event/14546685/artist_in_residence_edgar_fabin_fras
Coaxial's Artist in Residency program is supported by The National Endowment for the Arts and the Department of Cultural Affairs, Los Angeles.