Streaming weekly on https://twitch.tv/coaxialarts
Beginning this Saturday, July 4th, we will be streaming weekly programs comprised of artist-led workshops, video lectures, video art creations, sound & music performances, and much more. We reached out to a long list of some of our favorite artists to see what they have been working on while isolated. We collected and curated a cache of new work generated recently or for this series in artists' homes and studios. This series aims to supplement the in-person platforms which we developed this space to offer but must step back from due to the global pandemic. We are extremely excited and honored to showcase a vast array of provocative new work from vector synthesis to socio-political panel discussions to hardware techno. Set an alarm and tune in weekly from 9PM til late for hybrid programs of diverse video works and musical manifestations.
This series will not air on July 18th and 25th, when we will be streaming work by our artist in residence Kamau Amu Patton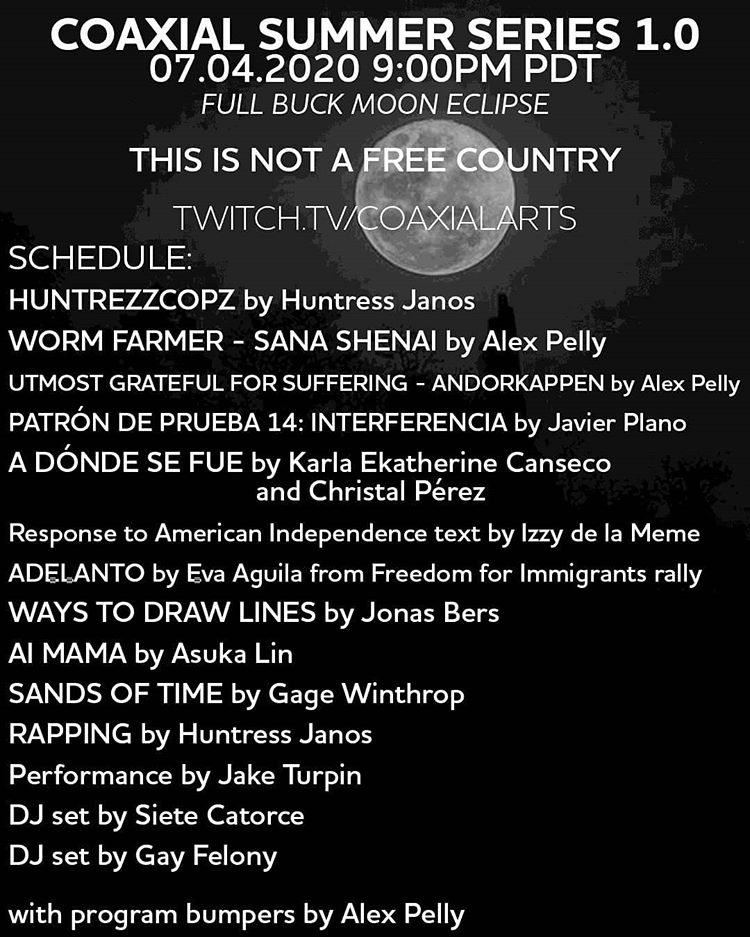 Some highlights of the artists making our first installment:
First up we have @huntrezz a Los Angeles based animator, artist and performer. Huntress Janos is a prolific multi-media and 3D graphics artist working at the forefront of contemporary afro-futurist art through surreality, magic, celebration and activism. Her science-fantasy instagram face filters have made big waves in LA fringe culture.
Next up is @alexpelly aka her Dublab alias PELLYVISION. Alex has been a staple of LA video art culture for years, working with parties like Perpetual Dawn and Das Bunker to bring her stark hybrid analog/digital visuals into the minds of countless LA party goers. She has done tour and event visuals for countless artists from Suzanne Ciani to Daedelus. Photo credit: @tracythnguyen
Our third artist featured is @javierplano_videonix an Argentinian video artist championing analog video art for spanish-speaking artists with his forum Videonic@, responsible for reviving the open source video glitch device Videffektor. Javier teaches at UNTREF and consistently collaborates with artists to make diverse multi-media installations and performance visuals.
Photo credit: @violeta.spk
Our final artist featured today is Hudson-Valley based @jonasbers creator of the original CHA/V tutorial, one of the most important and accessible DIY synth devices to be published. Jonas is a prolific teacher, performer and experimenter utilizing a vast array of analog devices to make every sort of A/V work from brainwave-controlled projections to analog laser synthesis.
Photo credit: @palomakop
Karla Ekatherine Canseco and Christal Pérez @momplsstop are interdisciplinary friends based in Los Angeles. Their work explores themes of memory, the body and history. They attempt to understand how their identity is framed, one which is dependent upon myths, migration and technological networks. Their work is often realized in performance and video. Las dos hechan desmadre.
Born in Kobe, Japan; Asuka Lin @asuka_bot is a Japanese-Taiwanese filmmaker and visual artist currently based in Los Angeles. Although the topics addressed in their photography, zines, films, and installations vary greatly; they are all united under a strong interest in the postcolonial human experience. Their work has often been described as confrontational or subversive, holding a deep sense of honesty to the subject matter while still keeping a sense of humor.
Jake Turpin @jaketurpin_singersongwriter is a Los Angeles based producer and performer specializing in hardware-based techno, dark trap & industrial drill. They work on the farthest reaches of genre, moving beyond definition if ever it threatens to catch up with their sound. At CalArts they became a practiced synthesist, learning the one-of-a-kind Serge modular. Their recent release on Search Results Press conveyed a deep as well as exploratory synthesis and production process.
Gage Winthrop @gagewinthrop is an experimental pop musician and animator. Ranging in genre from ambient to singer songwriter to dubstep, he strives to make high quality production paired with high energy visuals. Right now he is preparing to release his next full-length electronic LP "CATASTROPHE," showcasing for the first time tonight via Coaxial!
Chloe Scallion, aka Gay Felony @gayfelony is a video artist and DJ based in the San Fernando Valley. Her diverse practice is an ever-expanding web of TransTemporal phenomena delivered from the post-gender future. She completed an artist residency at Coaxial in April and now serves as Operations Director for the space.