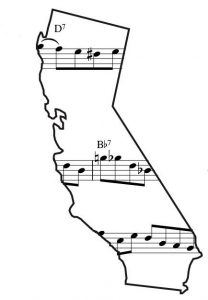 The California Unification Process is an occasional statewide gathering of improvising musicians in the spirit of the Globe Unity Orchestra, Derek Bailey's Company, and the Total Music Meeting.
The East Bay-based members of Lisa Mezzacappa's avantNOIR sextet: Lisa (bass), Aaron Bennett (tenor sax), Mark Clifford (vibes), John Finkbeiner (guitar), Jordan Glenn (drums), and Tim Perkis (electronics), will represent Northern California. They are fresh from triumphant appearances at the Monterey and Angel City Jazz Festivals and newly consecrated with a 4 1/2 star Downbeat review of their latest CD, while the southern delegation will be the ad hoc coalition of Kris Tiner (trumpet – Bakersfield), William Roper (tuba – Altadena), Tina Raymond (drums – Burbank), Jeff Schwartz (bass – Culver City), Charles Sharp (reeds – Long Beach), and Wilfrido Terrazas (flute – San Diego).
These dozen players will appear in various configurations for two sets of free and structured improvisation between 3 and 5pm on Sunday, October 14 at Coaxial Arts, 1815 S. Main St, Los Angeles, 90015.