Collective Change Needs Collective Community: Coaxial Stands for Anti-Racism
Dear Supporters,
Since the inceptions of Coaxial Arts Foundation we have been committed to having a safe and welcoming environment for all backgrounds. No matter who you are, you are welcomed in the space. We have supported artists from many different backgrounds over the years but realize we don't exist in a vacuum. Collectively as an organization we firmly stand against racism and oppression and are in complete solidarity with the protestors and the movement to defund the police. Every time we witness a new horror on the news and especially with the latest tragic deaths of George Floyd, Breonna Taylor, Tony McDade, and Ahmaud Arbery, we realize that simply being passively anti racist is not enough. We need everyone, including ourselves, to collectively unite and stand against oppression and racism with whatever tools and platforms we have.
These last few weeks have been really tough for a lot of us. It's been filled with a lot of grief and anguish but to see the outpour of support has been inspiring and uplifting. This shows that not one person or one group of people can do this alone. We need collective liberation through collective action to see real change. Over the course of these two weeks we have been listening, attending protests, making care packs for protesters, donating, and sharing resources. We have seen a lot of people coming together to support.
I have been thinking about how Coaxial as a platform can contribute to the movement more than just sharing links to resources. We want to take this moment from our usual programming routine to put focus on a pivotal shift in dismantling oppression. As an artist-run space that works hard towards amplifying marginalized voices we understand the need to make sure everyone is being taken care of. Right now more than ever we are here to continue to defend and support QTBIPOC lives. As a non-profit community arts organization we will amplify voices, promote advocacy, form partnerships, distribute grants, provide residencies, and give artist support.
This is an ongoing process but we will hold ourselves accountable to make sure it will continue being a routine dialogue in our organization.
We put together a resource list of organizations and tools we see important. It's by no means complete or absolute but we welcome feedback as things progress.
Thank you for your ongoing support.
Stay Safe,
Eva Aguila
Co-Founder/Artistic Director
---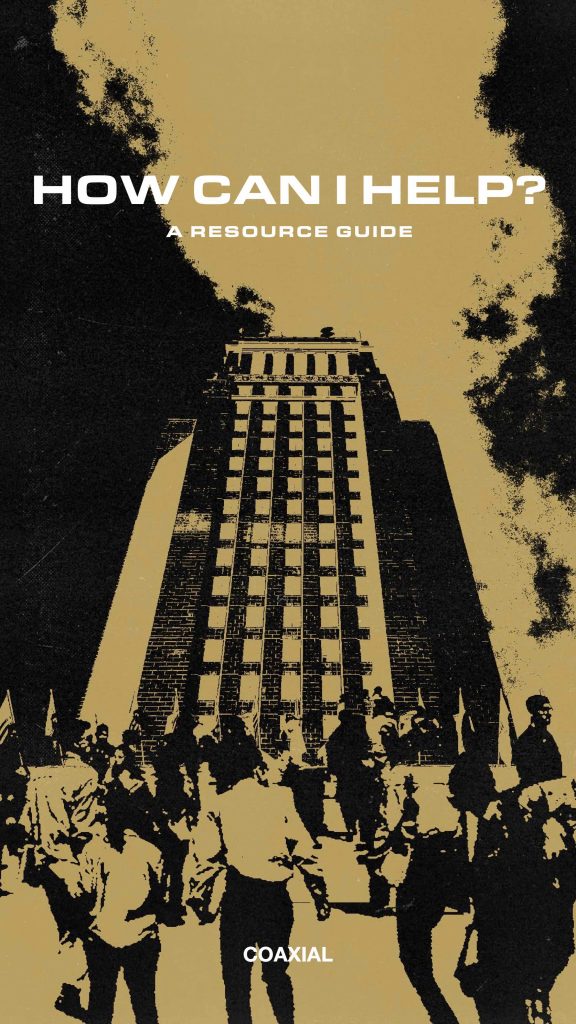 Downloadable PDF of all the resources available here
Organizations to Follow:
Black Lives Matter Los Angeles
https://www.blmla.org/
People's Budget LA
https://peoplesbudgetla.com/
Movement for Black Lives
https://m4bl.org/week-of-action/
Reclaim the Block
https://m4bl.org/week-of-action/
MPD150
https://www.mpd150.com/
Donations:
Action Bail FundLA
https://linktr.ee/ActionBailFundLA
Peoples City Council Freedom Fund
https://gofundme.com/f/peoples-city-council-ticket-fund
Split a donation between 70+ community bail funds
https://secure.actblue.com/donate/bail_funds_george_floyd
Sign Petitions:
https://blacklivesmatters.carrd.co/
Support Black Owned Businesses:
Spreadsheet created by Kat Hong
https://tinyurl.com/blackownbiz
Black-Led LGBTQ+ Organizations:
LGBTQ Freedom Fund
https://www.lgbtqfund.org/
House of GG
https://houseofgg.org/
Trans Justice Funding Project
https://www.transjusticefundingproject.org/
The Okra Project
https://www.theokraproject.com
Youth BreakOUT!
http://www.youthbreakout.org
SNaPCo
https://www.snap4freedom.org/
Legal Resources:
Grassroots Law Project
https://www.grassrootslaw.org/
The Bail Project
https://bailproject.org/
Reading:
Defund the Police FAQ Zine By Mpd150
https://www.mpd150.com/wp-content/themes/mpd150/assets/faq_zine.pdf
Shareable Anti-Racism Resources Guide, by Tasha K. Ryals
https://tinyurl.com/shareableantiracismguide
Anti-Racism Resources For White People, compiled by Sarah Sophie Flicker and Alyssa Klein
http://bit.ly/ANTIRACISMRESOURCES
Tools for White Allies, by the Washington Race Equity & Justice Initiative
https://wareji.org/resources/tools-for-white-anti-racist-allies/
Racial Equity Tools
https://www.racialequitytools.org/home
List of Reading by Guacforthepeople
https://linktr.ee/Guacforthepeople